The Season of Angel Reese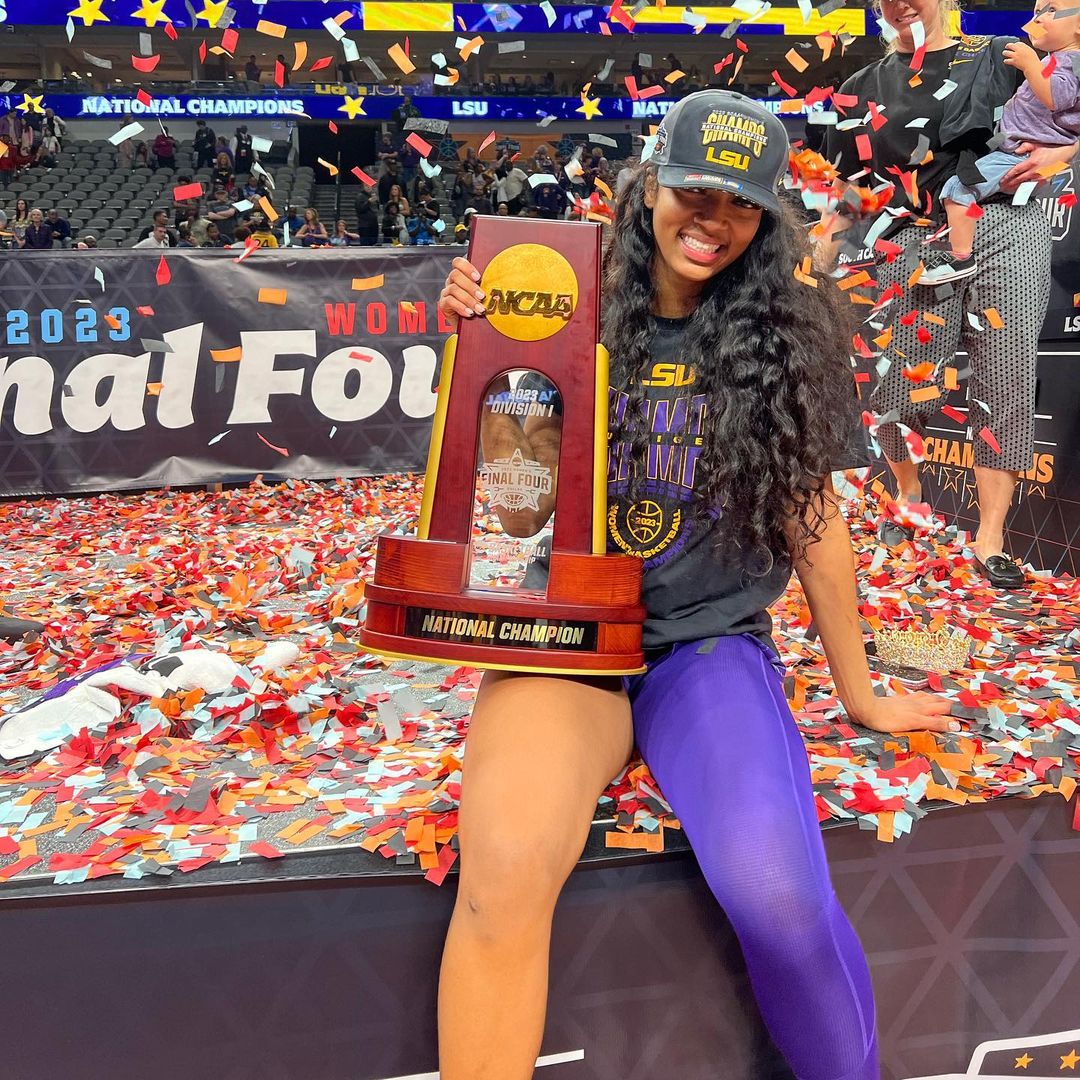 Photo by @angelreese10 on Instagram
(By Jerry Bembry for Andscape) – WASHINGTON – Nearly an hour into the White House ceremony honoring the LSU women's basketball team, President Joe Biden stepped away from the teleprompter and went off script as he walked toward Angel Reese.
"Later this afternoon I'm going to be with the Connecticut team, the men's team, and your cousin wants to have a one-on-one," Biden said, referring to UConn guard Jordan Hawkins, whose team was honored hours later. "And I put my money on you, kid."
That seems to be a theme these days — putting your money on Reese, one of the most sought-after players in all of college sports. Just over a year after she transferred from Maryland to LSU, joining a team with nine newcomers and an unknown future on just how everything would gel, her status — when it comes to national recognition — has probably been elevated more than any player who has ever won the NCAA tournament's most outstanding player award.
Male or female.
Reese has laid out the blueprint for college athletes on how to capitalize on name, image and likeness (NIL) deals, which have taken the world of college sports by storm. Her current NIL evaluation of $1.4 million ranks second among female athletes, and sits at 10th overall among all college athletes. And it's rising.
The impact of Reese's decision to continue her college career at LSU has been immense. 
Her decision helped the team to win its first national basketball championship in school history (and the trip to the White House for Friday's ceremony, which was briefly delayed when LSU freshman Sa'Myah Smith had to be taken away in a wheelchair after fainting on the crowded platform behind the president).
Her style and flair contributed to the most watched women's basketball game in history (the title game against Iowa peaked at 12.6 million viewers).
And her ability to go against the norms of what's expected of women athletes ("I don't fit the narrative," Reese said during the season in a message that resonated with a nation of female basketball players) has resulted in the interest in women's basketball this past season becoming nearly equal to the men's game (the men's final averaged 12.34 million viewers, a decline of 17% from the previous year; the women's final registered an 87% increase from the previous year).
Welcome to the season of Reese, the Bayou Barbie, who is currently riding a sudden wave of popularity that is unlike any we've ever witnessed.
Here's a look at how Reese arrived.
Yesterday's price is not today's price
Just over a year ago, Reese – while still at Maryland – signed a NIL deal with Outback Steakhouse. She was featured in an ad campaign alongside her brother, Terrapins forward Julian Reese.
Read the full story here.