Black Mental Health & Healing Justice Peer Support Training in New Orleans
15jun10:00 am2:30 pmBlack Mental Health & Healing Justice Peer Support Training in New Orleans
Event Details

Get practical peer support tools to support Black mental health. Black centered. Allies welcome.

NOTE: In order to complete the following certificate training, participants must attend the full day taking place on Thursday, June 15th , 2023 from 10am-2:30pm in New Orleans, LA. In addition, all attendees must complete a post-training evaluation before receiving a certificate of completion.

Accessibility Statement: ASL services are available. Please email training@beam.community as soon as possible and at minimum 7 days prior to the event to indicate ASL needs – June 8th,2023.

Ticket Purchases: There is a 5 ticket allotment maximum per organization.

*Lunch will be provided.

COVID Protocol

We encourage our community to be mindful of engaging in-person events with safety and communal responsibility in mind. We recognize that the pandemic is not over and many members of our community are immunocompromised. We strongly encourage the use of masks. Please do not attend the event if you are feeling ill. COVID tests and face masks will be available on site.

*************

Description

This certificate program equips participants with 101 knowledge of mental health issues, myths, and challenges in Black communities and provides participants with tools and skills to offer healing justice informed peer support.

Who is the course for?

This course is for anyone offering any form of peer or emotional health support in Black communities including, but not limited to, activists, advocates, educators, HIV/AIDS workers, substance use support counselors, yoga teachers, or anyone else offering support services to Black communities.

Objectives

After this training participants will be able to:
Name and identify common mental health diagnoses and challenges in Black communities with accurate information.
Name and identify common treatments for mental health challenges.
Challenge and provide accurate information on common myths on medication, psychology and mental health in Black communities.
Apply and provider peer emotional support through a healing justice framework.
Identify and map out strategies and resources for mental health in their own communities.
FAQ
1. Is this training only for Black people?
No, this training is for anyone working in Black communities. The peer support framework is also applicable to all marginalized communities.
2. How long is this training?
One full day, in person.
*************
If a need-based scholarship is necessary for your attendance, please email training@beam.community
DISCLAIMER: This training is not a mental health service and is for educational purposes only.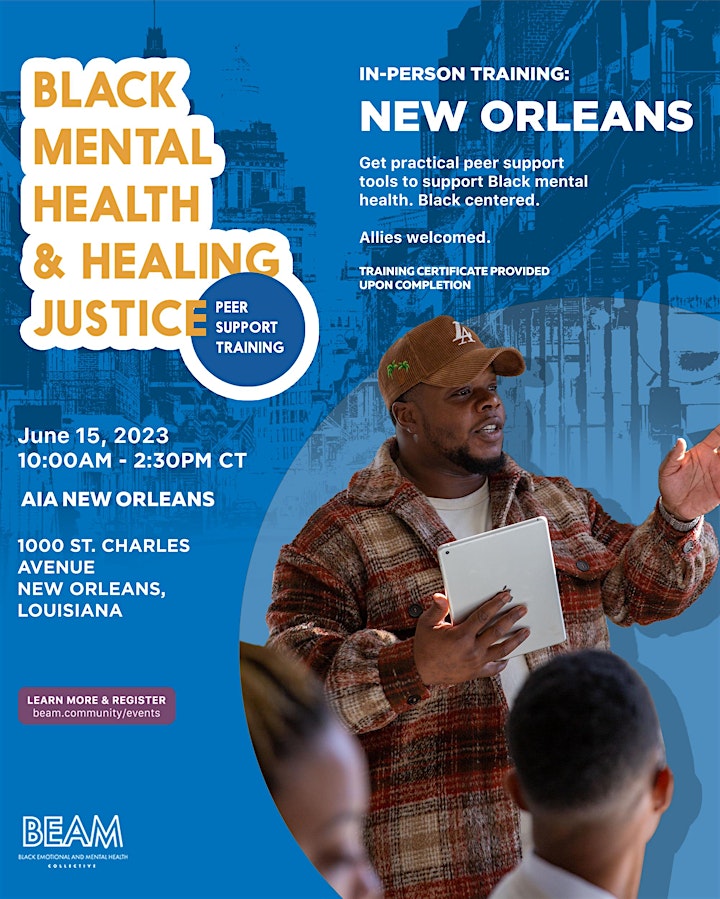 Time

(Thursday) 10:00 am - 2:30 pm
Location

AIA New Orleans Center for Design

1000 St. Charles Avenue, New Orleans, LA 70130