DELVIN BREAUX'S MENTAL HEALTH AWARENESS BOOTCAMP REGISTRATION
16jun7:00 pm8:30 pmDELVIN BREAUX'S MENTAL HEALTH AWARENESS BOOTCAMP REGISTRATION
Event Details

The Center for Racial Justice and Former Saints player, Delvin Breaux presents "Mental Health awareness bootcamp" at Dillard University.

Dillard University's Center for Racial Justice and Delvin Breaux will be hosting a Mental Health Awareness and Fitness Bootcamp! This is a 100% free program for boys and girls 11-15 & 16-21 years old that will combine elements of physical exercise, mental health education, and emotional well-being support. The goal of our bootcamp is to fight the obesity and mental health issues that our youth are struggling with today. We want to promote a holistic approach to wellness, addressing both the physical and mental aspects of health.

Boot Camp Schedule: Friday, June 16th, 2023 (7:00pm-8:30pm (CST) Registration/ Introduction only) , Saturday, June 17th, 2023 (9:00am-3:00pm) (CST) and Sunday, June 18th, 2023 (9:00am-3:00pm) (CST) which will be held at the Dillard University Gym located at 2601 Gentilly Blvd. New Orleans, La.

This 3 Day Boot Camp will consist of mini workshops on and off the field:

1. Physical Fitness Activities: The bootcamp will include various physical exercises and workouts to improve fitness, strength, and flexibility.

2. Mental Health Education: The bootcamp will incorporate educational sessions focused on mental health awareness, stress management techniques, and strategies for maintaining emotional well-being. These sessions might cover topics such as understanding common mental health conditions, developing healthy coping mechanisms, and promoting positive self-care practices. The bootcamp will offer workshops and activities that focus on developing specific skills related to mental health and emotional well-being. This could include mindfulness meditation, breathing exercises, journaling, or stress reduction techniques.

3. Group Discussions and Support: Participants will have opportunities to engage in group discussions and share their experiences related to mental health. These sessions can foster a sense of community, allowing individuals to express their challenges, seek support, and learn from one another.

The mental health awareness and fitness bootcamp aims to create a positive environment that encourages individuals to prioritize their well-being and develop a healthy lifestyle. It combines physical activity, education, and community support to promote mental and physical health in a comprehensive way.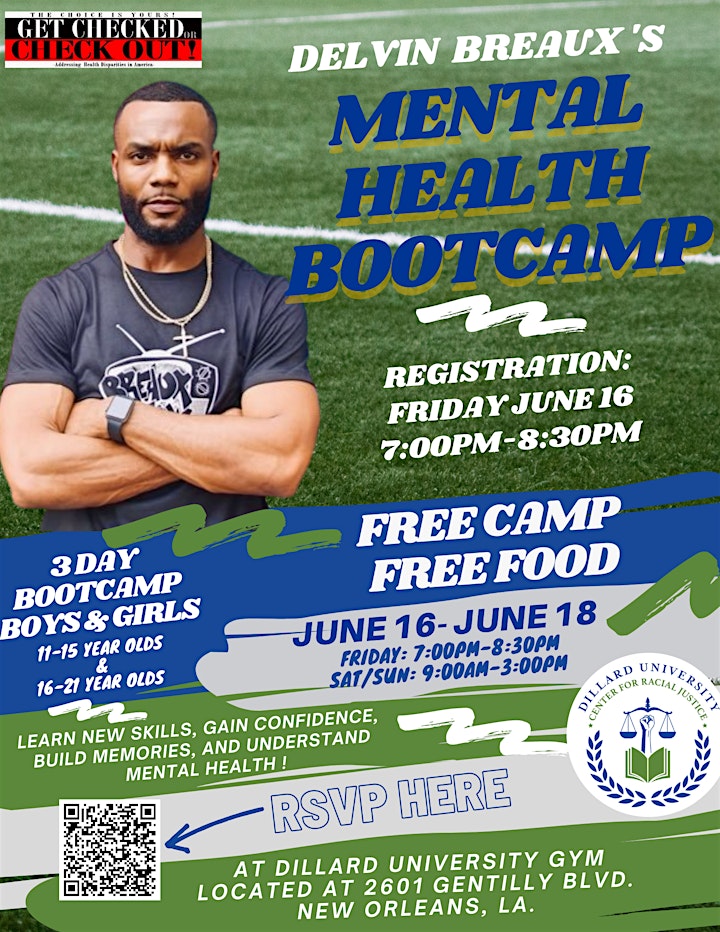 Time

(Friday) 7:00 pm - 8:30 pm
Location

Dillard University

2601 Gentilly Boulevard, New Orleans, LA 70122