#OHUBFridays
02jun(jun 2)6:00 pm03(jun 3)12:00 am#OHUBFridays
Event Details

#OHUBFridays offers New Orleans's emerging tech, startup & venture ecosystem the opportunity to connect on the 1st Friday of each month!

#OHUBFridays is the monthly authentic networking event and expert speaker series held on the 1st Friday of the month in New Orleans, Louisiana. Authentically connect with the region's emerging diverse, equitable and inclusive technology, startup and venture ecosystem. Hear from the nation's leading innovators, entrepreneurs and investors. Learn about OHUB's New Energy Technology Incubator powered by OHUB, 100 Black Angels & Allies Fund, Greater New Orleans, Inc., H2TheFuture & The Commerce Department's Economic Development Administration. Each year, the NETI will invest up to $500,000 in five new energy technology venture-backable startups that complete OHUB's High Growth Company Building programming. Stay tuned for application details. All are welcome!

RSVP required.
Friday, June 2, 2023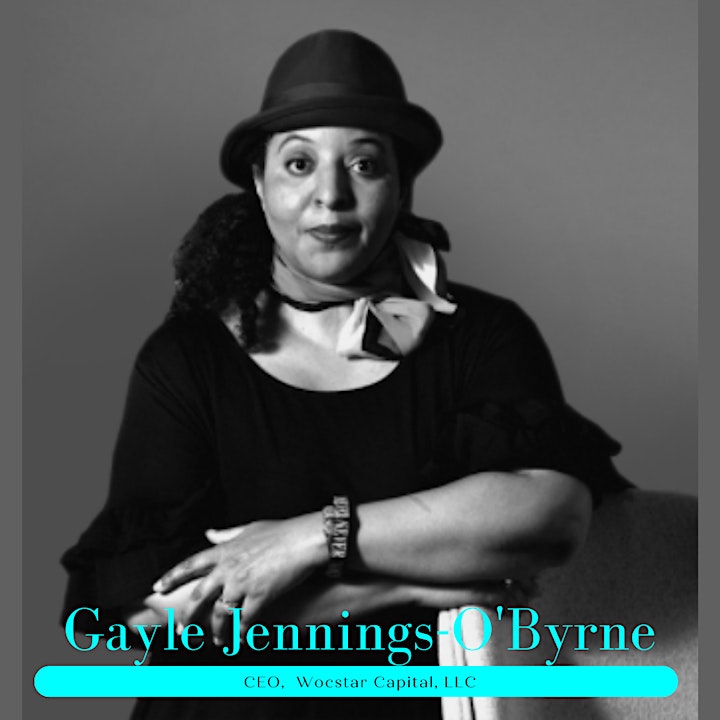 Gayle Jennings-O'Byrne is CEO of Wocstar Capital, and co-founder of the Wocstar Fund, an early-stage venture fund that invests in the future of consumption and innovation using a female arbitrage strategy — women of color tech entrepreneurs ("WOCstars").
Gayle (pronounced: Gay-l) was named "10 Women Changing the Landscape of Leadership" by the New York Times, March 2021 and Top 10 Women of Influence in Venture Capital by Venture Capital Journal, July 2022. She is an instructor at Wocstar Academy and co-founder of the Ally Capital Collab, an initiative to tackle systemic underinvestment in women of color fund managers.
Gayle has over 30+ years of wall street, technology, philanthropy, training, and professional speaking experience. She is a former mergers and acquisitions banker at JPMorgan. She led the capital/planning effort for the Cinema High School, 1st public high school of its kind. She began her career at Sun Microsystems.
She is a graduate of the Wharton School of Business, the University of Michigan, and an attendee of the National University of Singapore and the City of London Polytechnic.
Gayle is President of The Nantucket Project Academy and former board member of Women.NYC, NYC Economic Development Corporation and current board member of BE.NYC (Black Entrepreneurs), NYC Department of Small Business Services. Gayle is a 2022 recipient of the U.S. Presidential Lifetime Achievement Award, 2021 Tri-Delta Woman of Achievement Award. Associate Producer of "Thoughts of a Colored Man" a Broadway play (October 2021) and investor in "For Colored Girls Who Have Considered Suicide / When the Rainbow Is Enuf" (April 2022) which was nominated for seven Tony Awards®.
Moderator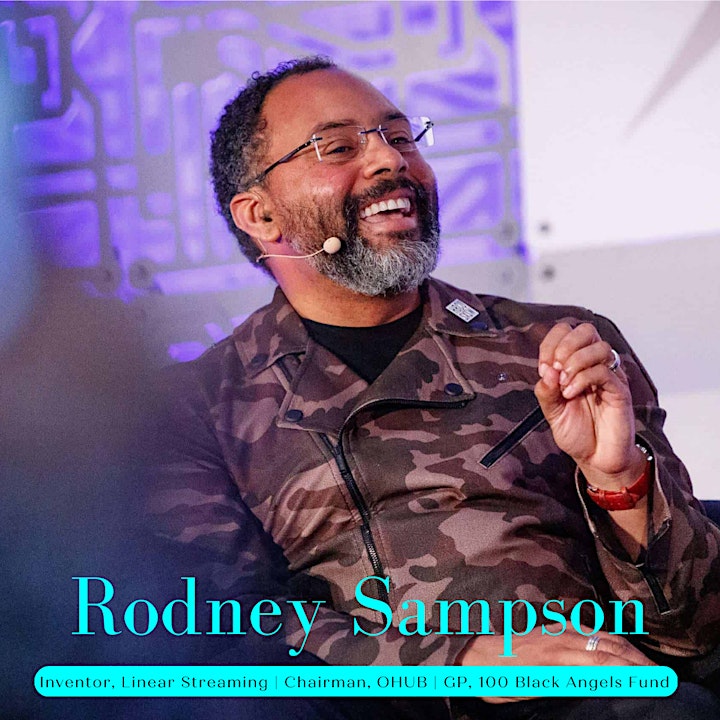 Rodney Sampson is heralded as the leading inclusive innovation, entrepreneurship and investment ecosystem builder in the world, particularly given his mission to ensure that everyone, everywhere, particularly socially and economically disadvantaged communities, have equitable opportunities in the fourth industrial revolution and beyond as definitive paths to building new multi-generational wealth with no reliance on pre-existing multi-generational wealth.
Throughout his two-decade plus entrepreneurial career, Sampson has co-founded technology startup companies that have overcome the odds by collectively raising more than $20 million in angel and venture capital, creating hundreds of new jobs and generating tens of millions in revenue before acquisition or going public.
At the beginning of the 21st century, Sampson was a pioneer of streaming software and social media infrastructure technologies as the cofounder of Multicast Media Technologies (Streamingfaith.com) and EFactor (EFCT). He was one of three Black co-founders during this era whose high growth technology startups raised over $1 million in angel and venture capital and were subsequently acquired for eight figures. In October 2021, Sampson and his wife in an unprecedented and historic acquisition purchased Piksel Americas, Piksel France, Kewego Espana and Streaming Faith to form Piksel Technology Corporation, the largest majority Black and woman-owned enterprise streaming software and infrastructure platform in the world.
In the early parts of his career, Sampson also built Intellectual Currency, a world class integrated go-to-market, publishing and advisory firm with clients ranging from major Hollywood film studios, cable networks, tech companies, global corporates, publishers, the United States government, African heads of state and leading Black church denominations.
Since 2007, Sampson has worked closely with high growth startups and early-stage venture funds as a senior advisor, investor and limited partner. His current advisory and investment portfolio includes Fearless Fund, Kinly Bank, JTECH, Cross Culture Ventures, TechSquare Capital, Lead Out Capital, Digit, Plum.io, Patientory and Momentum Learning and more.
In 2013, Sampson co-founded Opportunity Hub (OHUB) as a follow up to the highly successful Kingonomics' book release and large-scale conferences in Atlanta, GA and Washington, DC. OHUB scaled quickly to become the world's leading minority-owned multi-campus technology hub, entrepreneurship center and coworking space featuring hundreds of events a year, the minority-serving institution of the fourth industrial revolution, talent agency and startup accelerator. Leveraging its proven, metrics-driven blueprint and methodology as outlined in "Building Inclusive Entrepreneurship Ecosystems In Communities of Color" with The Federal Reserve Bank, OHUB is a partner to commercial real estate developers, economic development corporations, civic councils and chambers, municipalities, technology companies, the fortune 100, high-growth startups, venture funds, foundations, associations, colleges and universities and beyond. OHUB's foundation is dedicated to equitable federal, state and municipal policy formation, economic advocacy and early exposure to the fourth industrial revolution.
From 2015-17, Sampson was a Partner at TechSquare Labs, an innovation lab, seed stage venture fund and creator of the $100,000 Atlanta Startup Battle. Today, TechSquare Labs' portfolio companies have raised follow on capital of nearly $400 million, are valued at over $2 billion, generate over $100 million in annual recurring revenue and employ over 1,500 people and growing. He remains the largest minority Limited Partner in the fund.
As the General Partner of 100 Black Angels and Allies Fund I, Sampson is creating a new generation of investors to advance venture funds, founders and ecosystem building companies committed to racial equity in the fourth industrial revolution. Key investments and joint ventures to date include MaC Ventures, SoloFunds, Goodr, Rheaply, 7th Avenue, Kanarys, Zirtue & JTECH Energy.
Sampson is also a Nonresident Senior Fellow in the Metropolitan Policy Program at the Brookings Institution in Washington, DC; a Venture Partner at Draper Goren Holm; and former Keohane Distinguished Visiting Professorship at the University of North Carolina at Chapel Hill and Duke University where he created his Black Technology Ecosystem Investment and Diversity, Equity & Inclusion Solutions (DEIS) certificates.
Sampson previously served as the 1st Head of Diversity at Mark Burnett Productions, executive producer of the hit ABC show, Sharktank and was responsible for increasing the representation of minority founders and guest sharks on the show driving capital to the culture and delivering an Emmy to the producers.
A strong believer in philanthropy and its role in social impact and advocacy, Sampson supports and serves on the boards of OHUB Foundation, Black In AI, Artificial Intelligence for All (AI4All), Multicultural Media, Telecom and Internet Council (MMTC), International Bishops Conference, and GA Blacks in Technology Policy Summit.
Sampson was educated at Tulane University, Pennsylvania State University College of Medicine and Keller Graduate School of Management; and is a life member of Omega Psi Phi Fraternity, Inc.
Sampson resides in Atlanta, GA with his wife and six children.
Time

2 (Friday) 6:00 pm - 3 (Saturday) 12:00 am
Location

Maroon New Orleans

1206 Saint Charles Avenue, New Orleans, LA 70130